Tanzfabrik Berlin und Galerie Ebensperger
28. – 31.08.2014
tanzfabrik-berlin.de

Since 2000 the biennial Tanznacht Berlin has been showing creative work by choreographers having their artistic or home base in Berlin. The 8th Tanznacht Berlin presented the diversity of the capital's contemporary dance scene between 28 – 31 August 2014 in the Uferstudios | Tanzfabrik Wedding and the Galerie Ebensperger, showing the work of 100 artists in 30 dance pieces, performances, video installations and artistic practices.
Under Heike Albrecht's artistic direction, the 8th edition of the Berlin dance biennial probed the relation between contemporary dance and its global origins, traditions and cultural signatures. With a pop cultural look at the present and future, Tanznacht drew a map that delineates the reference points of Berlin based international choreographers to their origins.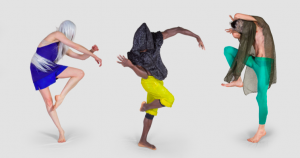 mit
Alexandre Achour This isn`t gonna end well
Diego Agulló & Agata Siniarska Those three little words
shift – art in movement / David Brandstätter & Malgven Gerbes Krump "N"Break Release (work in progress) and Festina Lente – Make haste slowly
Dragana Bulut Where is the Zombie? Episode 2
Pauline Boudry & Renate Lorenz CONTAGIOUS!
Club Real Freileitung
Dewey Dell Cinquanta Urlanti, Quaranta Ruggenti, Sessanta Stridenti
Begüm Erciyas Hypnosis
Frédéric Gies Seven Thirty in Tights
Martin Hansen Monumental
Juan Harcha Angela Loji
Ian Kaler & Anne Quirynen On Orientations | Shifting the burden
Sergiu Matis Fake – the real deal
Bjørn Melhus Majestra
Eva Meyer-Keller & Sibylle Müller Katastrophenkompostionen – Sounds like Catastrophes
Jo Parkes & Inge Koks In Residence: On Tradition
Ricardo de Paula Shoot first
Jochen Roller The Source Code – ein Online Projekt über eine Ausdruckstänzerin im Exil
Jochen Roller & Monice Antecena Der Carpenter-Effekt
Tian Rotteveel Hardcore
Angela Schubot & Jared Gradinger Soon you are theirs
Meg Stuart The Only Possible City
Jolika Sudermann Pulse aplenty
Niels 'Storm' Robitzky & Raphael Hillebrand & Louise Wagner Dialogic Movement. Forum für zeitgenössischen urbanen Tanz
Niels 'Storm' Robitzky Urban Danc Fundamentals – Workshop
TanzZeit Jugendcompany Evoke & Kadir 'Amigo' Memis Kellerkinder
Kenji Ouellet Le Sacre du printemps – a haptic ride
Kat Valastur Gland
Penelope Wehrli House of Snow
Christoph Winkler Das wahre Gesicht – Dance is not enough
Siegmar Zacharias Invasive Hospitality – Gast Alice Chauchat
Panel discussion Gefördert – und wie weiter? Das Berliner Fördersystem im Zeichen kultureller Diversität und ständiger Transformationen in der zeitgenössischen Tanz/Kunst with Sigrid Gareis, Xavier Le Roy, Dr. Johannes Odenthal, Annemie Vanackere und Dr. Konrad Schmidt-Werthern
8.TN_Magazin
A production by Tanzfabrik Berlin
In cooperation with
Galerie Patrick Ebensperger, Hochschulübergreifendes Zentrum Tanz Berlin, mapping dance berlin, Tanz im August/HAU Hebbel am Ufer, Uferstudios GmbH. Im Rahmen des Netzwerks apap – advancing performing arts projects/Performing Europe 2011-16. Supported by EU Culture / apap Network
Subsidy by the Hauptstadtkulturfonds Berlin
With the kind support of
Aktion KulturAllianzen der Allianz Stiftung, Fachbereich Kunst and Kultur Bezirksamt Mitte, Bezirkskulturfonds, Institut français and Nationales Performance Netz im Rahmen der Gastspielförderung Tanz aus Mitteln des Beauftragten der Bundesregierung für Kultur und Medien sowie der Kultur- und Kunstministerien der Länder

Graphic Design Michael Rudolph, Andreas Töpfer (milchhof:atelier)
Programming Carsten Stabenow (milchhof:atelier)