24.07.2015 (Premiere)
WUK – ImPulsTanz Wien
In the second piece of the series o.T., Ian Kaler together with Philipp Gehmacher and music producer Aquarian Jugs aka Planningtorock investigates connections, commonalities and threshold areas as possible approaches to movement and dynamics of his movement practice specially developed for o.T..
Subsequent to the first part of the series – (the emotionality of the jaw) – (gateways to movement) further develops the solo concept as and with an interplay of the actors. (gateways to movement) marks a process of mutual questioning and challenging, and offers a playful approach to how friendship, companionship and complicity may trigger overcoming the predictable and make it accessible.
The concept implies interweaving and pulsating of inner and outer movements, balancing un/familiar states of permeation in moments of encounter. Let us enter the space with our movements, steps, emotions and conditions in order to integrate our un/foreseeable and currently uncanny world!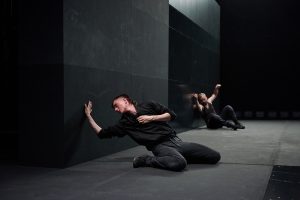 Artistic team
Artistic Direction / Choreografic Framing Ian Kaler
Performance Philipp Gehmacher and Ian Kaler
Music composed / produced / performed by AQUARIAN JUGS aka Jam Rostron
Space Stephanie Rauch
Lightdesign Jan Maertens
Costumes Marcus Karkhof
Dramaturgy Heike Albrecht
Input Bodywork Heike Albrecht, Stephane Peeps Moun
Projectmanagement das Schaufenster
Production Ian Kaler
Coproduction ImPulsTanz – Vienna International Dance Festival
Supported by Wien Kultur
The series o.T. is a production of Ian Kaler in coproduction with HAU Hebbel am Ufer, ImPulsTanz – Vienna International Dance Festival, Norrlandsoperan and Tanzquartier Wien in Cooperation with Tanzfabrik Berlin and APAP – Advancing Performing Arts Project – Performing Europe supported by Wien Kultur, Der Regierende Bürgermeister von Berlin Senatskanzlei Kulturelle Angelegenheiten and NATIONALE PERFORMANCE NETZ (NPN) Koproduktionsförderung Tanz aus Mitteln des Beauftragten der Bundesregierung für Kultur und Medien aufgrund eines Beschlusses des Deutschen Bundestags.
www.iankaler.org