16.06. – 30.08.2012
Maribor (Slowenien)
Maribor, the second largest city in Slovenia, was the joint holder of the European Capital of Culture title in 2012 together with the Portuguese town of Guimarães. The region of Maribor, including the surrounding cities of Velenje, Slovenj Gradec, Ptuj, Murska Sobota and Novo mesto that took part in the Capital of Culture year, is on the brink of new developments, and is involved in an open-ended search for a new significance while remaining conscious of its 900-year-old history.
The region's openness in matters of change, and schemes for its future as a part of the European Community, were followed in the program series As we speak – Future Languages. It aimed to illustrate a variety of forms of linguistic communication and their possible spaces of articulation and meaning, which often characterise political dimensions and historical conditions.
Just as we make up shifting global linguistic regions, we are also witnesses of newly defined societal hierarchies. Having a say in defining a multitude of necessary approaches and transformations is what Maribor 2012 relates – without embellishment and on the verge of new departures.
Accordingly, the artistic projects in As we speak – Future Languages were not in search of confirmation but rather participation. The projects have been created in close collaboration with local artists and partners in Maribor.
Artists
Roman Bezjak
Boris Buden
Helene Breitenfeller
Frank Brettschneider
Till Briegleb
Sašo Furlan
Joke Lanz
Petra Kapš
Mate Kapović
Birgit Mennel
Patrick McGinley
Rastko Močnik
Udo Noll
Stefan Nowotny
Ana Pečar
Alenka Pirman
Lidija Radojević
Stefan Rummel
Carsten Seiffarth
Ignaz Schick
Carsten Stabenow
Martin Tétreault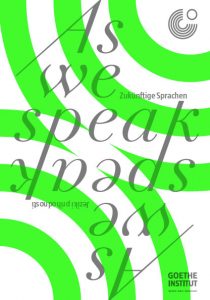 Download Publikation >>>